VIDEO - IN THE STUDIO 2018 Geelong Gallery Prize 2018
'Sally Ross Objets d'Art', Neha Kale, Vault Magazine Issue 24 2018/19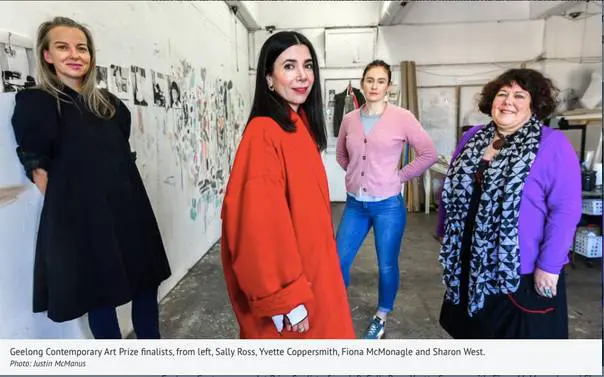 SALLY ROSS
Paintings and Carpets
Murray White Room, Melbourne
18 NOVEMBER - 22 DECEMBER 2016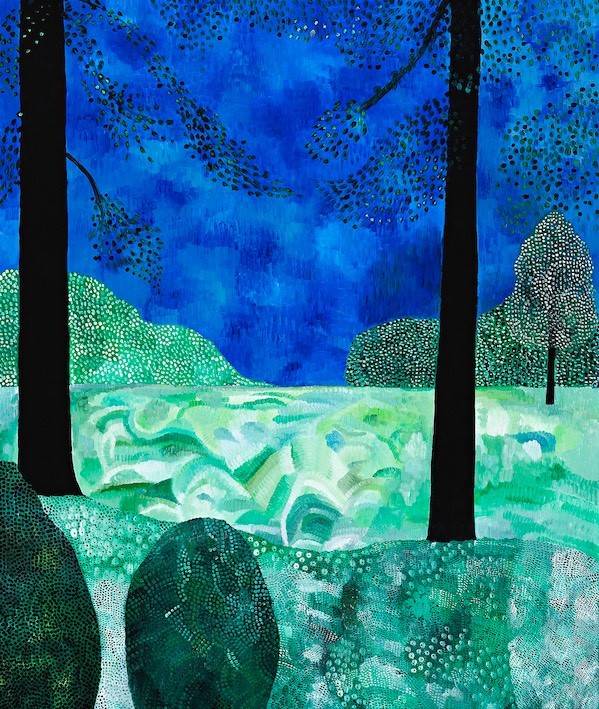 In Sally Ross' dense, lush landscapes you will find forests, paths, and points of no return. Obsessive marks swarm over the pictures, bushy leaves, rolling hills, and ribbons of green pulse about the landscape, articulating a perfect blur between the abstract and the recognizable. A three-time Archibald Prize finalist, Ross' coolly observed portraits will mingle amidst the landscape paintings - a burlesque dancer or a dreamy lady with a haystack coiffure, looking on, somewhat indifferent to your gaze.
The exhibition space of Murray White Room will also be occupied by a magnificent procession of antique carpets covering the entire expanse of the long gallery floor. Providing a complex harmony and counterbalance to the paintings, the carpets become an analogy of 'humanity's past' present now…. of time and timelessness. The carpets instantly transform the space with intricate decorative energy and presence. There will be no empty white cube, no tabula rasa. Ross' paintings co-exist with the decorative power of the carpets' primitive designs and their inexhaustible mysterious and complex rhythms 'without sentiment'. Ross has collaborated with expert Bob Cadry, whose family have amassed Australia's largest collection of collectible and decorative antique rugs. Bob has curated an exquisite selection of antique carpets from Persian, Anatolian, Caucasian, and European origins.
Ross's paintings are the distillation of her incessant consumption of art and images, they desire to renew your acquaintance with the fertile potential of conventional painting genres and the picturesque, to re-activate the imaginative possibilities and unspoken pleasure(s) of painting. Ross' paintings become a metaphor for the everyday collision of fantasy and the real in our lives and are painted somewhere "… between (real) doubt and potential ecstasy."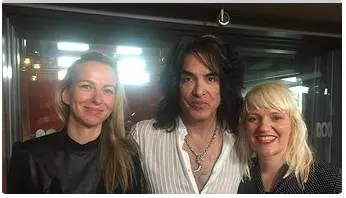 Debauchery is in the eye of the debaucher on
The Conversation Hour with Waleed Aly on 774 ABC Melbourne
Paul Stanley & Sally Ross.. listen here>>
Sally Ross, Paul Stanley, Jacinta Parsons (photo: John Standish)
SBS Radio - interview in french
Rencontre avec Sally Ross, finaliste du Archibald Prize 2015. Elle parle aussi du touring exhibition de ce prix prestigieux au Art Gallery de Ballarat jusqu'au 15 novembre prochain.
ecoutez ici >>
ARCHIBALD PRIZE 2015 ART GALLERY OF NEW SOUTH WALES
PORTRAIT OF EVA ORNER 2015 - SYDNEY MORNING HERALD >>
MOUSSE CONTEMPORARY ART MAGAZINE MAY 2015
SEE FEATURE HERE >>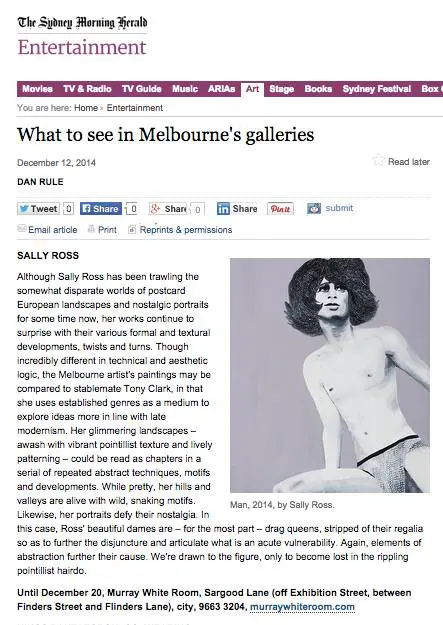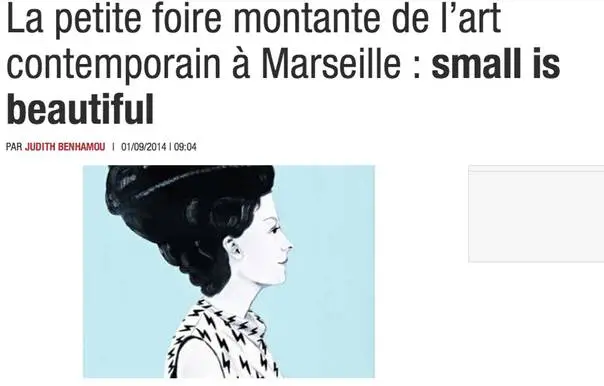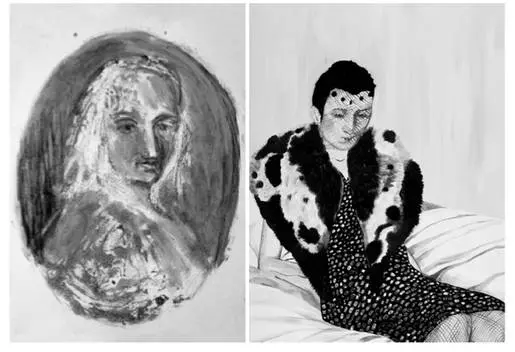 Sally Ross / Tony Clark, Portraits, Murray White Room, Melbourne 2014